Just follow our Facebook page for more news!
---
Newsletter
[end of Jan. 2019]
Dear Sponsors and Friends,
On 14th of January 2019, Ark Angels Educare was officially opened. This amazing project was only possible through your generosity and sponsorship. The kindergarten facilities will provide a loving and beautiful environment where the children can be prepared for future schooling. This is in stark contrast to the dire living conditions of their township.  
Our prime aim was the building of the new Educare for the Ark Angels children - who were previously accommodated in extremely poor and inadequate circumstances. Thanks to so many of you, this aim has been most successfully achieved.
As you know the newly-housed kindergarten is being returned to the management of Prosper, the Founder and Principal of Ark Angels Educare.  SEEDS Trust, in turn,  has decided to partner with the NGO True North (www.true-north.co.za) - which organization specialises in the training and overseeing of all Daycare Centres in Overcome Heights/Seawinds. True North has the capability and expertise to further train and manage Prosper and his staff at the kindergarten. True North can also assist Prosper with qualifying for the actual registration of Ark Angels with the Department of Social Development.  Once this has been achieved, Prosper will be able to apply for government grants to assist with the Educare's budget and to become self-supporting.
After much discussion and consideration, Marlis and I have decided that further sponsorship of this Educare will only be for the actual maintenance of the building. SEEDS Trust retains ownership of the building.  Ark Angels will pay no rental for the next 2 years – and for this period, SEEDS Trust will pay all maintenance costs.  Thereafter, this will be re-negotiated.

The intention is that all future sponsorship funds will be used for our 4 existing projects -  and could include partnering with True North in some instances.
To simplify our bookkeeping – and to enable funds to be used where most needed, we request that all future donations be paid to
 The SEEDS Trust                   Standard Bank (Constantia Branch),  Account No: 076021459, Branch Code: 025309                                                                                               
                                                 Swift: SBZA-ZA-JJ ,  designated to "Kinderhilfe Kapstadt".   
We trust you will appreciate the need for funds for the continuation of our ongoing projects.
Lastly, we again thank you all for your continued support and trust in our projects which are currently supporting and benefitting 700 children in the townships.
We will definitely keep you informed of all progress and happenings within our projects.
Kind regards
Marlis, Elke and the SEEDS Trust
---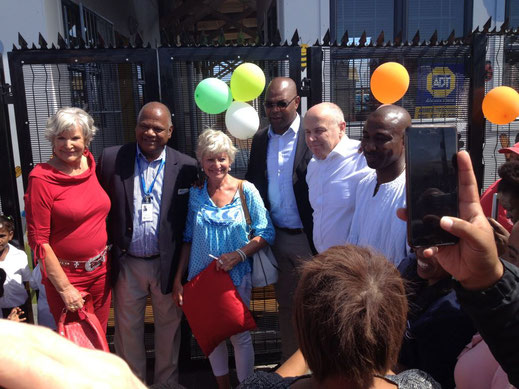 Cutting the red ribbon [from left to right]:
Marlis Schaper (The SEEDS Trust); Dan Plato (Mayor of Cape Town); Elke Zwicker (The SEEDS Trust); Malusi Booi (Councillor of Human Settlements, Cape Town); Andreas Maager (Consul General of Switzerland); Pastor Prosper (Ark Angels Educare)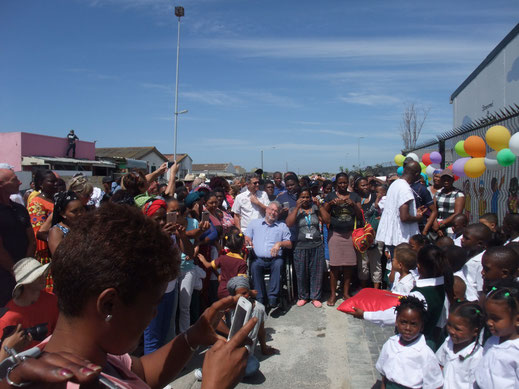 Celebration with lots of sponsors, donators, partners and community members and - of course - children of Ark Angels Educare.
With George Kuratle from HWZ International in the middle.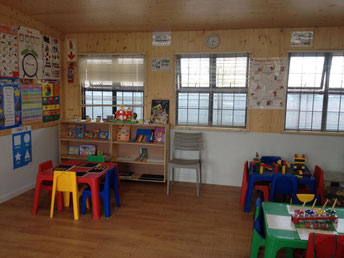 ---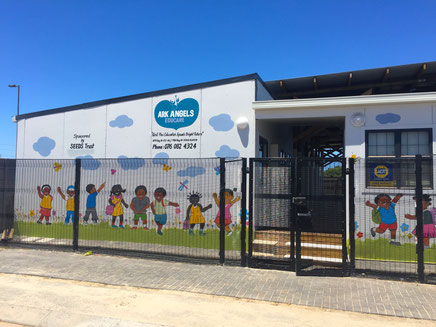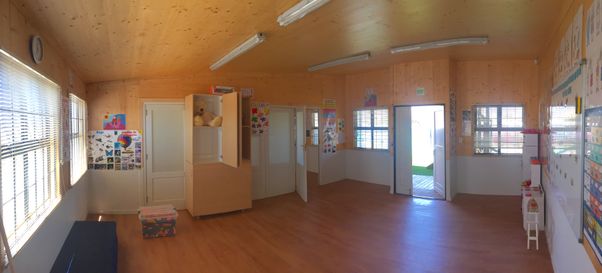 Dear friends, 
Finally we made it! With great joy we can tell you, that with the beginning of the Advent season, the ECD centre Ark Angels Educare is completely finished. It seems to us being an early Christmas present.
Finally we mastered and hurdled all problems, and we are very proud of our fantastic new building, where the children can feel comfortable in the upcoming year, and where they are allowed just to be a child and play & learn in a really nice surrounding.
Our whole pursuit headed towards this aim, that became true now - and we are really happy.
We would like to thank especially our great team:
·        Pastor Prosper, founder and leader of Ark Angels, for his tireless dedication
·        Ivan Jonker and Warren Papier, architects of 'Jonker + Barnes'
·        Ben Payne and Eden Barnes, project manager of 'Logo Homes'
·        Tharwaan Isaacs, cost consultant of 'AMPS'
·        Zaida Davids, representative of HWZ International and the Wood Student Foundation
But our special thanks to you, our wonderful and generous donors. Your support and loyalty is just gorgeous.
Since many years you accompanied and supported us (in the beginning just Marlis and then me, Elke, too) again and again. You had faith in us and encouraged us to do our best for the future of the cildren in the townships of Cape Town. 'Little Lambs' has  become a showcase project - thanks to your help - and we hope that 'Ark Angels' will be the same in the following years. Thank you for staying loyal to us - there will always be work for us.
We wish you and your beloved ones a wonderful, cosy and contemplative advent season. 
Warm greetings to you all,
Yours Marlis and Elke

---
---
Dear friends,
It gives me great pleasure to inform you about the progress made at the Ark Angels construction site over the last couple of weeks. As progress is presently moving rather slowly, I signified to all roleplayers at our last site-meeting, that we need to move forward more rapidly. The scheduled date of completion has now been moved to mid September, but it would not be surprising, if the due date turns out to be end of September.
Especially the treatment of the wooden walls and ceilings turned out to be rather extensive as the grinding and surface lacquering of the entire interior had to be done manually by only two workmen! To make matters worse, all walls and ceilings needed a second coating which resulted in the whole process taking much longer than anticipated.
Read more in our newsletter...
Inhalte von Powr.io werden aufgrund deiner aktuellen Cookie-Einstellungen nicht angezeigt. Klicke auf die
Cookie-Richtlinie
(Funktionell und Marketing), um den Cookie-Richtlinien von Powr.io zuzustimmen und den Inhalt anzusehen. Mehr dazu erfährst du in der
Powr.io-Datenschutzerklärung
.
---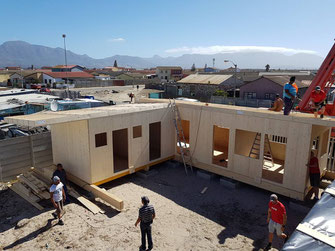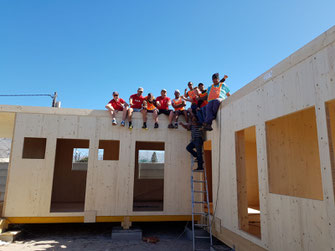 ---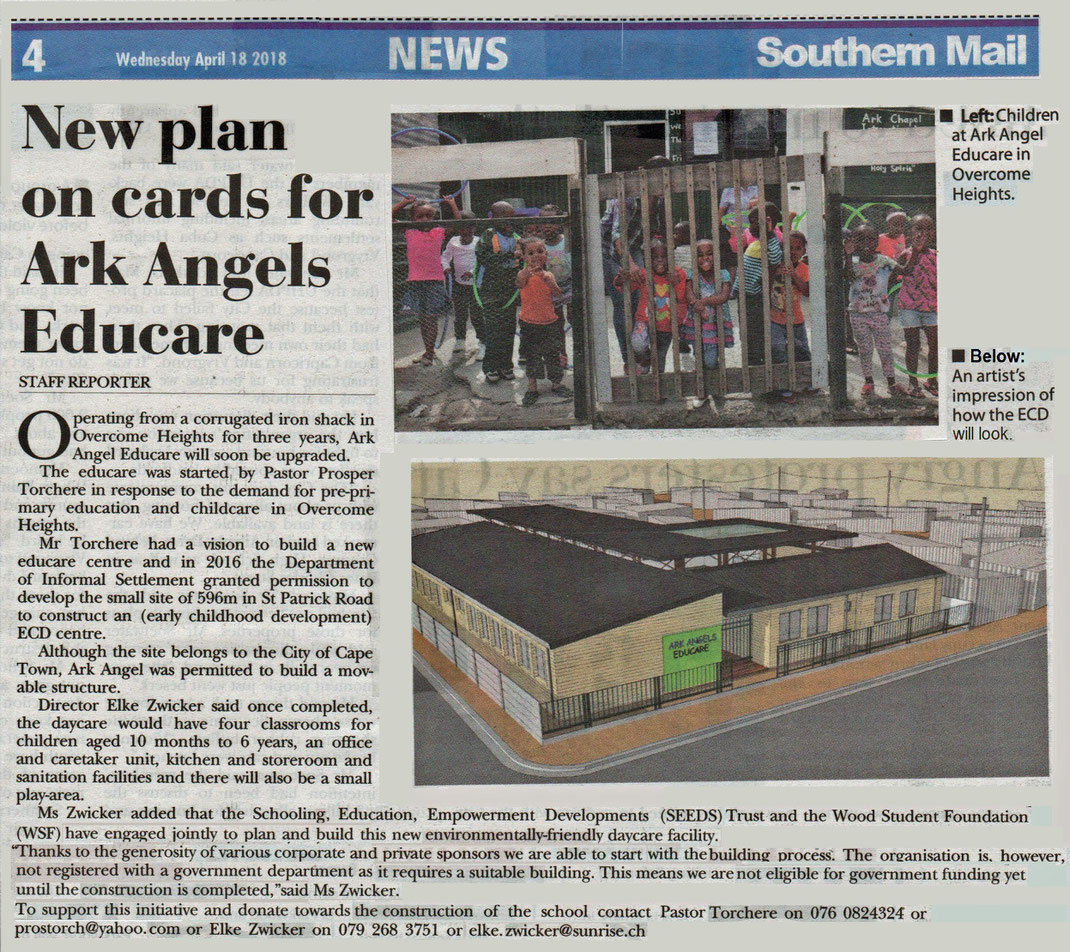 ---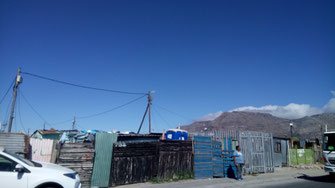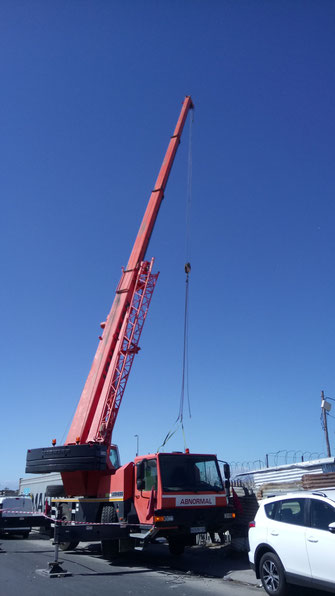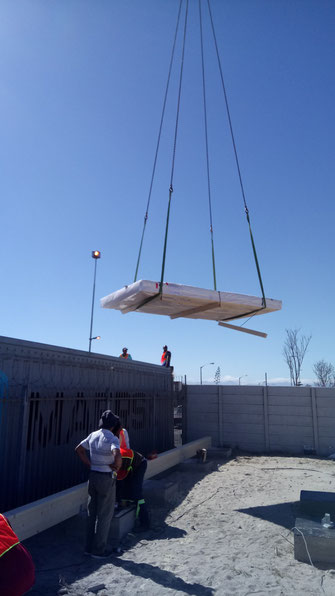 ---
---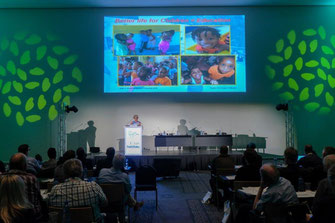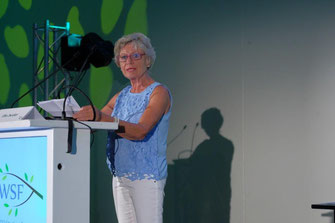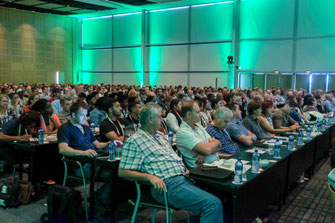 This year again, our director Elke Zwicker talked about Ark Angels Educare at the 8th Wood Conference (with 800 participants) in the Cape Town International Convention Centre. She reported on the achieved progress in regards to the new building of our creche / ECD centre:
· All licences could be procured
· Jonker + Barnes could finish the building plans
· AMPS has finalized the cost calculation
· Logo Homes was charged with the site management
· Novatop got the contract to build the wooden elements according to the plans.
· Financing für the construction is secured, but we still need sponsoring for the interior furnishing and equipment.
· We hope for support of the subcontractors.
Now the building can be started and we thank all parties involved!
---
Graduation Party
[Dec. 2017]
The big and long-awaited day for the kids at "Ark Angels" und "Little Lambs" has finally arrived:
The Graduation Party  - the day when it's time for the 'oldest' of our pupils (Grade R) to say farewell to the kindergarten, before they will start with elementary school.
---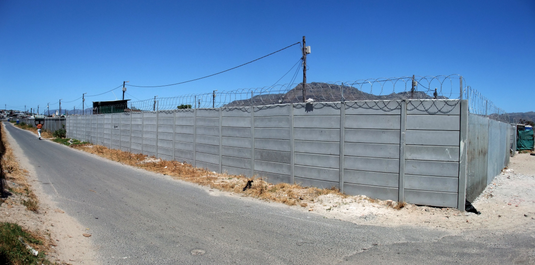 The Department Informal Settlement – Urbanisation has granted permission to use and develop site OH836 St Patrick Road, Overcome Heights for an early childhood development centre.
The property is situated in an informal settlement, it belongs to the City of Cape Town and cannot be purchased. Only movable structures are permitted.
Once the building has been completed, the Educare will have to apply for registration with the Department of Social Development ( DSD ). To obtain registration with Social Development (DSD), Ark Angels needs a structure that is built to provide ECD services and simultaneously meet all requirements of the City.
Once the new facility is registered with Social Development, Government grant may be applied for.
---

Jonker + Barnes Architects undertook the production of general arrangement drawings which described the overall scheme, spatial arrangements, heights etc. These were then developed into a set of panel drawings guided by the information set out in the NOVATOP Procedure for processing: Instructions for Assembly Document. The panel drawings; consisting of elevations of each wall, floors and ceiling layouts, were then sent to NOVATOP who translated them into shop drawings which allow seamless production by their factory. The design layout takes into account components offered by various donors.
The Quanity Surveyors and Cost Consultants AMPS undertook the costing analysis for the project.
Project Management will be undertaken by Mr Ben Paine of Logo Homes, Strand.
---
"Education is the most powerful weapon which you can use to change the world."     Nelson Mandela